Paperback
September 2018
$ 49.99
ISBN: 9781486308576 280 pages
245 x 170 mm
Publisher:
CSIRO Publishing
Colour photographs
Available here

ePDF
September 2018
ISBN: 9781486308583
Publisher:
CSIRO Publishing
Available from eRetailers
«The Allure of Fungi»
An interdisciplinary exploration of fungi, showcasing stunning photographs.

Although relatively little known, fungi provide the links between the terrestrial organisms and ecosystems that underpin our functioning planet.

The Allure of Fungi presents fungi through multiple perspectives – those of mycologists and ecologists, foragers and forayers, naturalists and farmers, aesthetes and artists, philosophers and Traditional Owners. It explores how a history of entrenched fears and misconceptions about fungi has led to their near absence in Australian ecological consciousness and biodiversity conservation.

Through a combination of text and visual essays, the author reflects on how aesthetic, sensate experience deepened by scientific knowledge offers the best chance for understanding fungi, the forest and human interactions with them.


About the Author
Alison Pouliot is a natural historian who is passionate about fungi. She moves between northern and southern hemispheres to have two autumns each year, guaranteeing a double dose of fungi.

Her extraordinary photographs reflect her research on the ecology and conservation of fungi. In this book she documents a forgotten corner of the natural world that is both beguiling and fundamental to life.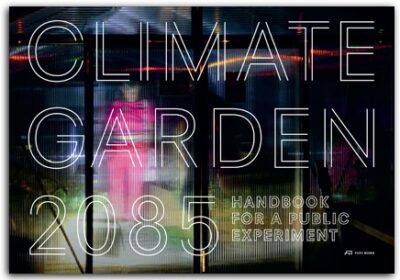 Hardback
2017
£ 25.00
ISBN: 9783038600602 96 pages
180 x 270 mm
Publisher:
Park Books
Colour photographs
Available here
«Climate Garden 2085 – Handbook for a public experiment»

The Climate Garden experiment enables the experience of climate change's consequences firsthand: it showshow the vegetation of a place might change in the future, what we may be eating, and what our gardens might look like. The experiment is conducted based on detailed climate scenarios that can be translated to different locations around the globe.

This new book serves as a manual for the implementation of such a public experiment at a local or regional level anywhere inthe world. Contributions by human geographers, art historians, and ecologists are complemented by a practical step-by-stepguide to creating a climate garden.

It provides a tool for private and public institutions to tell their own story and in particular toadd a personal and emotional dimension to the largely abstract climate scenarios we usually learn about in the media.

About the Author
Juanita Schläpfer-Miller is a science communicator and artist and has been working as a science communications specialist atZurich-Basel Plant Science Centre since 2012.

Manuela Dahinden holds a PhD in molecular biology. She works as a sciencecommunications specialist and as managing director of Zurich-Basel Plant Science Centre, a joint research initiative of theUniversities of Zurich and Basel and ETH Zurich.